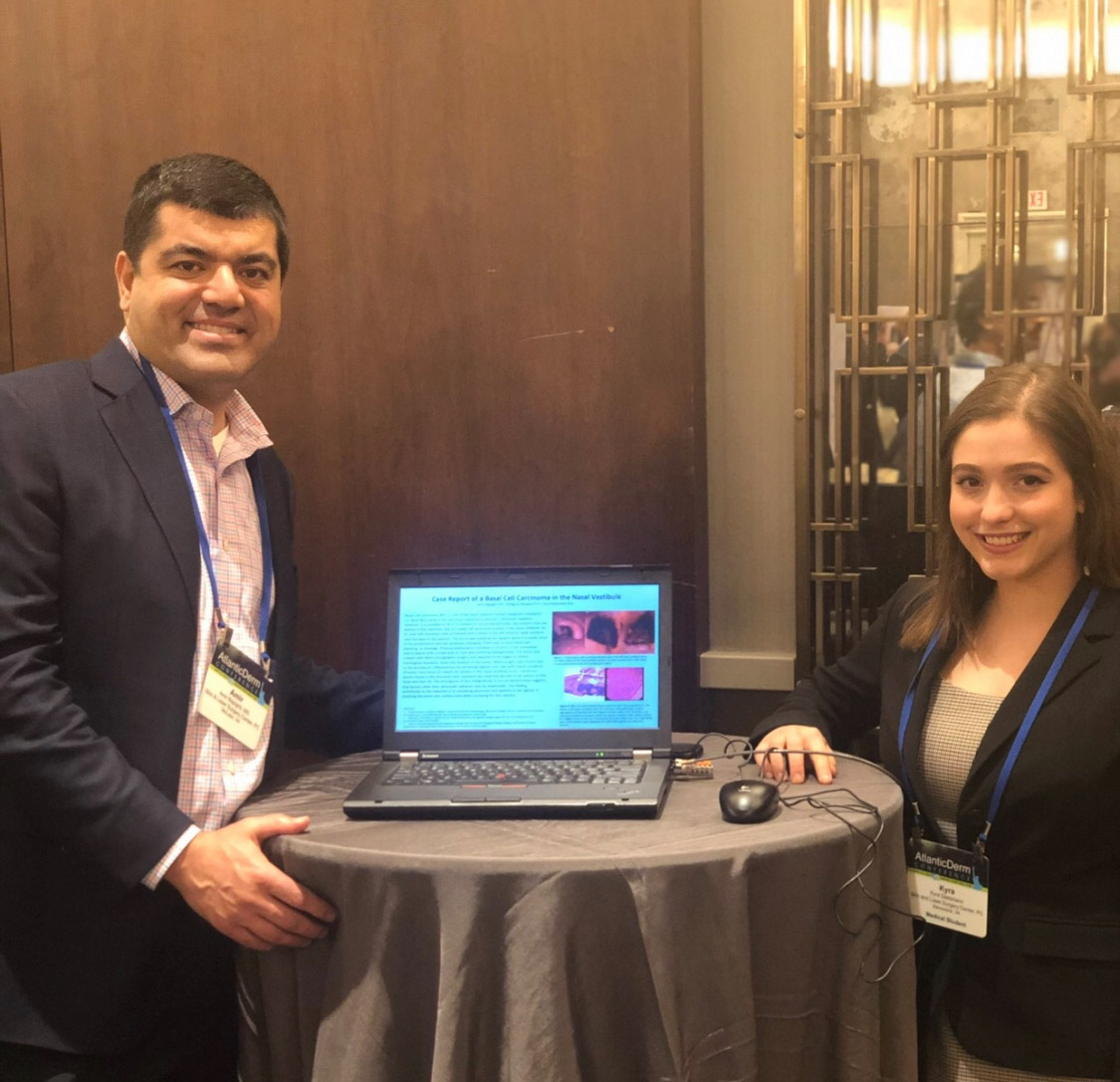 The Atlantic Dermatological Conference was founded in 1923 as a case-based clinical meeting to share discoveries, and as a means of offering the best care to patients. The attendees are a dedicated group of thousands of dermatologists from 14 member societies extending all along the eastern seaboard of the United States and Canada.
The Atlantic Dermatological Conference is one of the most prominent meetings of dermatological physicians in North America. Throughout its history discoveries that changed the course of patient care have been presented at this conference.
During this year's Atlantic Dermatological Conference, on May 4th, Amir Bajoghli MD, Milagros Shepard PA-C, and Kyra Gassmann B.A. presented their discovery of the first documented case of basal cell carcinoma in the nasal vestibule.
Most basal cell carcinomas (BCCs) arise in the skin from exposure to the sun's ultraviolet radiation. However, it is possible for BCCs to present in sun-protected areas.
Dr. Amir Bajoghli, et al presented their findings of a basal cell carcinoma located in the nasal vestibule of an 81-year-old Caucasian male. Given the location of the tumor, Mohs surgery was chosen due to the procedure's effectiveness for achieving highest cure rate with the lowest incidence of tumor recurrence.
The emergence of skin malignancies in sun-protected areas suggests that factors other than ultraviolet radiation may be responsible for the carcinomas.
This finding contributes to the importance of educating physicians and patients to be vigilant in checking the entire skin surface area when surveying for skin cancers.
It also demonstrates the efficacy of Mohs surgery in the removal of skin cancer lesions. The basic principle of Mohs microscopically controlled surgery is that the entire skin cancer is removed without taking out any more normal skin than is absolutely necessary. This approach offers the highest cure rate available, usually 98-99%.
Dr. Bajoghli and the Skin & Laser Surgery Team are experts in Mohs surgery, offering their patients the most efficient and effective treatment for basal cell carcinoma, one of the most common human malignant neoplasms.