Dr. Amir Bajoghli is a board certified Dermatologist in private practice in Mclean and Woodbridge, who has had the honor of being named Top Dermatologist and MOHS Surgeon in Virginia by the Northern Virginia and Washingtonian magazines. Prior to his position as Chief of Dermatology at Fairfax Hospital for nine years, Dr. Bajoghli was the director of Mohs micrographic surgery at the George Washington University School of Medicine. He is currently an adjunct assistant professor at Georgetown University School of Medicine's Department of Dermatology and teaches medical students and helps train future dermatologists through the residency program. Dr. Bajoghli is a doctor's doctor and has extensive experience treating patients from our local community and from around the world.
Dr. Amir Bajoghli is a native of Northern Virginia and attended the College of William & Mary and the Medical College of Virginia. He then completed his dermatology training at Tufts University/BU combined program and had additional training in dermatologic surgery / Mohs surgery at Boston University, where he also served as a faculty member. Prior to his dermatology training, he completed a full internal medicine residency at the Boston City Hospital/BU combined program and became board certified.
Dr. Amir Bajoghli Featured on News Channels 7 & 8
Before moving back to his native Northern Virginia, Dr. Bajoghli was an attending physician at the West Roxbury Veterans Affairs Hospital, responsible for teaching Harvard University dermatology residents and medical students. He has presented several scientific papers at national meetings and has written numerous articles and chapters for medical textbooks in the area of dermatology and the latest technique in skin cancer surgery.
Dr. Bajoghli also gives lectures on cosmetic dermatology including techniques in BOTOX® Cosmetic and Restylane® injections and medical lasers and was the medical director of Palomar Laser Technology, specializing in laser treatment for hair, tattoo removal as well as birthmarks and wrinkle removal. He specializes in Mohs surgery for the removal of skin cancers and is board certified in Dermatology and board eligible in Internal Medicine.
Dr. Amir Bajoghli Honored During Washington Nationals Baseball Game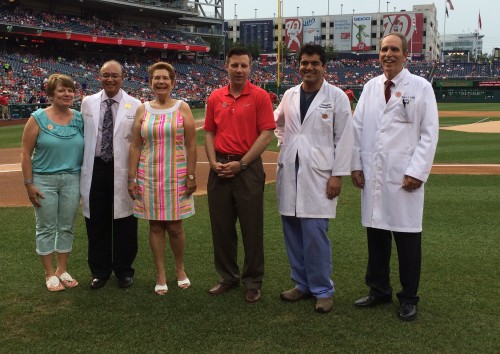 Outside of work, Dr. Bajoghli enjoys completing triathlons including most recently the Iron Man Maryland in 2019. He can be found on the weekend biking, playing tennis, doing photography, and enjoying time with his wife, a practicing architect in Northern Virginia, and their three boys.
Volunteer Work
Pro Bono Laser surgeon for Prince William County Gang Task Force and Response Intervention Team to help remove tattoos for former gang members so they enter the work force and become productive members of our community
Awards
Screening dermatologist for the Washington Nationals

Mentor of the Month and Teacher of the Month 2009 and 2010 (For Medical Students mentorship at MCV/Inova School of Medicine Campus)

Washingtonian, Northern Virginia Magazine, Consumer Checkbook, Virginia Magazine, Consumer Research Council , Top Dermatologist and Mohs and Cosmetic Surgeon

Teaching Academic Appointments