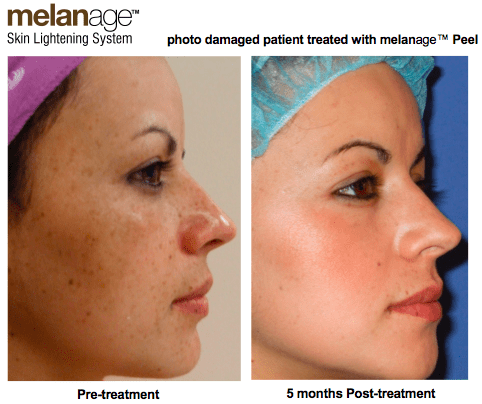 What is the Melanage Ultra Peel – Skin Brightening System?
Melanage Ultra is a superficial chemical peel designed to improve the texture and appearance of the skin. It entails application of a sheer occlusive masque and an at-home regimen. There is no pain and little-to-no irritation during the application of the masque. Typically, the irritation level on the following 3-4 days is more like a sunburn.
How does it work?
Melanage Ultra 1 invisiMask is applied during an office visit where it is compounded freshly t ensure its potency and reliability. The masque is removed by the patient after a required length of time depending on skin type. Patients leave the office with this invisible masque on their face. Patients are responsible for adhering to an easy-to=follow, but strict at-home regimen involving the application of several Melanage products following masque removal.
What results can I expect?
Results will vary but generally patients will see improvement in skin texture and appearance. Although most patients experience superficial peeling of the skin, not every patient will notice this. If you do no notice actual peeling, please know that you are still receiving all the benefits of Melanage Ultra. Proper skin evaluation by your doctor prior to your peel is important and will help predict the outcome.
Frequently Asked Questions
Our Providers
Dedicated Team
Skin & Laser Dermatology Center treats patients for all skin care concerns, including skin cancer surgery, cosmetic dermatology, sclerotherapy, laser peels, laser hair removal, hyperhidrosis, rosacea, and acne treatments.
Testimonials
Our Clients Say
My eyelid surgery results for the facial wrinkles look very natural. Very skilled dermatologic surgeon.
Dr. Bajoghli always has time for his patients, you never feel that he is rushing you and after you leave if you have any concerns he is very responsive to the point of giving out his cell phone number. I can't say enough about him and his staff.
Nurse Rassmussen answers all of my questions, listens to my concerns, examines my skin, goes over my treatment protocol and gets me out the door quickly, but without feeling rushed, so that I can get on with the rest of my day. I have already recommended this practice to a couple of friends, and I will continue to do so with confidence.
I really appreciate the polite and professional service that Dr. Bajoghli's practice provides in my dermatologic health. All of his staff make you feel welcome and are concerned for your care. Speaking as someone who neglected his skin care when I was young, I appreciate having a physician who is personally concerned for his patients.