Restylane Kysse (lip-filler)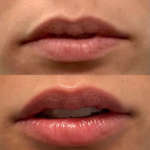 Restylane Kysse is a lip-filler designed to enhance the appearance of lips and restore volume, color, and elasticity where they have been lost. Restylane Kysse uses a new method called XpresHAn TechnologyTM that enhances the cross linking of the filler to create lips with natural-looking volume, flexible movement, and enhanced color. Restylane Kysse also revitalizes lines around the mouth to create younger-looking skin that is supple and soft.
Why do the lips lose volume and change texture with age?
Lips are particularly sensitive to ageing because of their exposure to sun and wind, but also because of their intensive use in daily life.
What kind of filler is Restylane Kysse?
Restylane Kysse is made of hyaluronic acid, a sugar that is naturally produced in the skin to keep the skin soft and plump by helping retain water in the dermis (the middle skin layer). The hyaluronic acid integrates itself into the lip tissue so whether you're talking, laughing, or kissing, it molds to your tissue, creating natural-looking results.
How long does Restylane Kysse last?
Restylane Kysse is proven to make the lips appear fuller with flexible movement for up to one year. In clinical trials, 96% of subjects reported improved lip fullness eight weeks after treatment and agreed their lips appeared natural. Most other lip-fillers typically last from three to six months, which is one reason why Restylane Kysse is so popular with patients.
How old do I have to be to get Restylane Kysse?
The Restylane family of products are FDA approved for patients over the age of 21. For patients in their 20s and 30s, Restylane Kysse can enhance the texture and shape of lips and in older patients, it can restore volume and color that has been lost with age.
How uncomfortable is the injection?
Restylane Kysse contains local anaesthetic lidocaine to improve comfort during treatment. It is injected directly into the skin with an ultra fine needle, resulting in minimal discomfort. Clinical studies have demonstrated high satisfaction with 86% of patients wanting to be treated with the same product again.
Do most patients' partners like the effects of Restylane Kysse?
A recent study on the effects of Restylane Kysse revealed that 90% of patients' partners were satisfied with the results of treatment.
What kind of post-injection aftercare is there?
We ask that patients return the week after their injection to ensure patient satisfaction. Restylane Kysse has been specifically developed to softly integrate into the lips and patients can expect minimal swelling. In those patients who experience swelling, ice packs can be applied. Bruising can be minimized by taking a supplement called Arnica forte which is available for purchase in our office. Arnica forte contains a pineapple juice extract known as bromelain which, along with arnica, helps minimize post injection bruising.
Are there any medical conditions that preclude me from using Restylane Kysse?
If you have a history of severe allergic reactions (anaphylaxis), are allergic to lidocaine, or have a bleeding disorder, make sure to inform your dermatologist during the cosmetic consultation. The dermatologists at Skin and Laser Dermatology Center are ready to help you choose the right course of treatment for your skin.
Frequently Asked Questions
Our Providers
Dedicated Team
Skin & Laser Dermatology Center treats patients for all skin care concerns, including skin cancer surgery, cosmetic dermatology, sclerotherapy, laser peels, laser hair removal, hyperhidrosis, rosacea, and acne treatments.
Testimonials
Our Clients Say
My eyelid surgery results for the facial wrinkles look very natural. Very skilled dermatologic surgeon.
Dr. Bajoghli always has time for his patients, you never feel that he is rushing you and after you leave if you have any concerns he is very responsive to the point of giving out his cell phone number. I can't say enough about him and his staff.
Nurse Rassmussen answers all of my questions, listens to my concerns, examines my skin, goes over my treatment protocol and gets me out the door quickly, but without feeling rushed, so that I can get on with the rest of my day. I have already recommended this practice to a couple of friends, and I will continue to do so with confidence.
I really appreciate the polite and professional service that Dr. Bajoghli's practice provides in my dermatologic health. All of his staff make you feel welcome and are concerned for your care. Speaking as someone who neglected his skin care when I was young, I appreciate having a physician who is personally concerned for his patients.