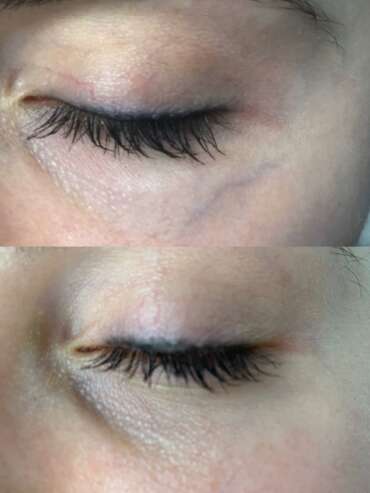 Advances in medicine and laser technology have allowed for the removal of unsightly facial veins without causing any damage to the surrounding skin. This is a highly effective procedure for removing red or blue lesions on the face, referred to as thread veins or spider veins, or in some cases broken capillaries. Individuals need to come in for an initial evaluation to determine if this is the best treatment option for them. Treatment of facial veins is considered cosmetic in nature and is not covered by insurance.
FAQ:
How does the treatment work?
The treatment works by delivering laser energy to the unwanted blood vessels, which are the main targets of the laser. The energy is absorbed by the red blood cells inside the lumen of the blood vessels. This causes the blood vessels to collapse and disappear naturally over time. These superficial small vessels are not necessary for physiologic function and their removal does not cause any harm.
How long does each treatment take?
Each laser session takes approximately 5-10 minutes depending on the size of the treatment area.
How much does each treatment cost?
Exact quotes can be given at the time of initial consultation and depend on many factors including your skin type and the size and location of the veins. Prices are competitive in today's market.
What are the treatments like?
Patients should not have an active tan for at least a few weeks prior to the treatment. Patients are also advised to avoid or discontinue aspirin, baby aspirin, Motrin, ibuprofen, Aleve, vitamin E, and fish oils for at least a week before the procedure. Makeup will be removed upon arrival. Patients are placed in a comfortable position, and the skin and surrounding areas are cleaned with alcohol. Protective eye goggles are worn throughout the procedure. There is minimal discomfort associated with the laser. Patients describe each pulse as the sensation of a mild rubber band snap. A coolant is delivered with each pulse, which acts as an anesthesia to help minimize discomfort.
How many treatments are required?
Individual results may vary. Most often, these vessels resolve in just one or two sessions. Rarely, additional treatments may be necessary.
What results can I expect?
As a non-invasive treatment, there is a minimal risk of visible scarring on the surface of the skin. After the treatment, the skin may temporarily appear red in color. Other side effects include mild swelling, bruising, and pain, which will completely resolve over the next few hours or days. The vessels underneath the skin will gradually disappear within a week in most cases. Recovery time is dependent on the extent of the treatment and an individual's own healing capacity. This procedure enables a quick return to work with very little down time.
How can I care for my skin after treatment?
Any side effects following treatment can be easily camouflaged with tinted moisturizers, sunscreens, and concealers. It is recommended to wear daily sunscreen, preferably one with zinc oxide and titanium dioxide. It is best to avoid exercise or strenuous activity for 24 hours and to avoid using any retina or similar products for one week following treatment. Often times the area will be cooled with ice packs during the treatment, so it is recommended to continue icing over the next 24 hours to minimize post-laser edema (swelling).
Our Providers
Dedicated Team
Skin & Laser Dermatology Center treats patients for all skin care concerns, including skin cancer surgery, cosmetic dermatology, sclerotherapy, laser peels, laser hair removal, hyperhidrosis, rosacea, and acne treatments.
Testimonials
Our Clients Say
My eyelid surgery results for the facial wrinkles look very natural. Very skilled dermatologic surgeon.
Dr. Bajoghli always has time for his patients, you never feel that he is rushing you and after you leave if you have any concerns he is very responsive to the point of giving out his cell phone number. I can't say enough about him and his staff.
Nurse Rassmussen answers all of my questions, listens to my concerns, examines my skin, goes over my treatment protocol and gets me out the door quickly, but without feeling rushed, so that I can get on with the rest of my day. I have already recommended this practice to a couple of friends, and I will continue to do so with confidence.
I really appreciate the polite and professional service that Dr. Bajoghli's practice provides in my dermatologic health. All of his staff make you feel welcome and are concerned for your care. Speaking as someone who neglected his skin care when I was young, I appreciate having a physician who is personally concerned for his patients.