One of the most prestigious medical organizations in Northern Virginia, MSNVA is devoted to the advancement of medicine and patient care by promoting physician-led projects to improve public health.
Dr.
Amir Bajoghli
has shown himself dedicated to these same goals with his contributions to the community he so dearly loves.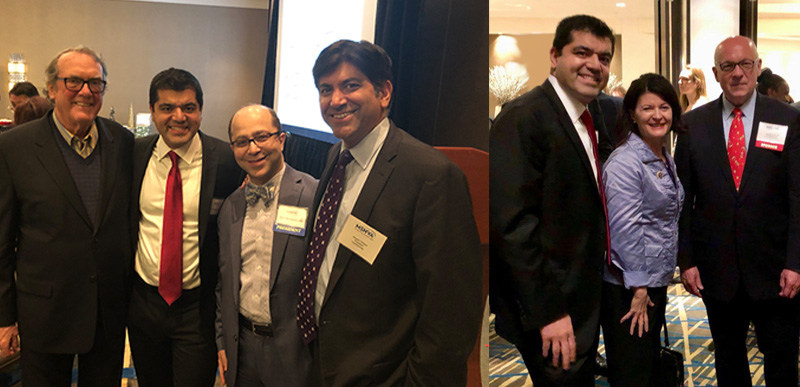 Whether it's offering free skin cancer screenings to the Washington Nationals or helping ex-gang members start a new life, by removing old tattoos, Amir Bajoghli enjoys working with the people of Northern Virginia to improve their lives.
During his inaugural address to the 134th annual meeting of the Medial Society of Northern Virginia, Dr.
Amir Bajoghli
spoke of the rewards of participating in community service and about the core values of the medical profession.
He spoke of the sacred relationship between doctor and patient and the responsibility the medical profession has for the greater community.
In his speech, Dr. Bajoghli also called for three actions:
Increase strategic communications to demonstrate the value MSNVA to both patients and the community we serve.  To become successful advocates for our profession, people must know we care.
Have an effective procedure that allows the Medical Society to better prioritize its legislative and regulatory agenda. 
Leverage the success of the last two years which have earned meaningful relationships with scores of influencers to increase this impact.

Dr. Bajoghli said in closing; "I will work to ensure that the power invested in me will be used to empower all of you. Our collective compassion, empathy, and bedside manner is what I want our community to feel as we continue to strive to make things better,"
Dr. Amir Bajoghli has been named Top Dermatologist and MOHS Surgeon in the Washington area by both the Washingtonian and Northern Virginia magazines.
Inaugural Address for Medical Society of Northern Virginia December 2018
Good evening and welcome to the 134th Medical Society of Northern Virginia Annual Meeting.

 

Thank you all for being here tonight. It is truly an honor and a pleasure to be amongst family, friends, colleagues and honored guests as we all celebrate 

MSNVA

's impact on patients and community.

 

Before I begin, I would like to acknowledge our distinguished guests Senators Barbara Favola and Marc Brown, Delegate Mark Kim, and Dr. Steven Jones from Inova, and our guest speaker Aneesh Chopra.

I would also like to acknowledge, and express, my personal debt of gratitude for our board members, our immediate past president Tarek, and our executive director, Claudia, without whom none of our past successes would have been possible.

 

My deepest thanks as well to my family, in particular to my wife, who has been a committed partner and dedicated mother to our sons. Her ideas and tireless energy have not only helped me build my own medical practice, but also grow a wonderful family which we have worked hard to integrate into our community. Her patience and perseverance over the years have been a constant reminder of the value of personal responsibility to one's profession, but also one's immediate family and greater community.

To my parents, whom I am blessed to have here with me tonight, my deepest appreciation for lessons learned and values gained that have helped me become a better man, long before I became a better physician. Your very own compassion, perseverance, empathy, integrity, and most importantly HUMILITY, have given me a clear example and constant inspiration.

As I started to prepare these remarks, my first inclination was to articulate a set of core values that I have had the unique experience to learn at an early age from my farther who is also a physician. But then I could remember an old saying, "until people believe that you care, they don't care what you have to say." And that crystalized so much for me about my role as a physician, my role with my family and my role in the greater community. It became clear to me that I greatly valued my father the man for his personal values long before I came to value lessons learned from my father the physician.

 

Ladies and gentlemen this is the heart of my passion for 

MSNVA

; it gives us a unique opportunity to not just advocate for issues that help our profession make good on the sacred relationship between patient and physician, it affords us another opportunity to demonstrate the values we collectively share to our greater community. Until they know that we care, they don't care what we have to say.

 

And we care deeply. And I suspect for many of you out there, if you are anything like me, that passion started at an early age. For me especially given the opportunity I had to go to my father's office. While I certainly did not absorb the science, I could not help but absorb his interest and passion in the way he interacted with patients, particularly as a pediatrician dealing with the parents of children with serious medical issues. I not only saw, but could feel, the same personal values he held as a father at home, were the same ones he exercised at his office as a physician.

 

That example has had an enduring effect on me. Although I did my my training in dermatology and Mohs surgery in Boston, I came back to the Northern Virginia area to be an attending Mohs surgeon at GW and to start my private practice. Outside of spending time with my family and my practice, I found joy in volunteering in my community. A unique experience was treating former MS-13 gang members who wanted to remove tattoos and leave behind an old life and build a new, productive one in our community. These tattoos were a constant negative reminder of a past life, that unfortunately prevented these young men and women from getting jobs and moving forward. I was happy to provide pro-bono laser services to them through the county gang task force program.

 

Through recognition of community work like this and other activities, I was encouraged by my mentors, and peers, to join this medical society. As you all know, 

MSNVA

 also has its own pro-bono telemedicine program where we offer medical services to individuals without health insurance. From a patient care perspective, this service has been tremendously rewarding for us physicians, as well as the patients. However, it has had a multiplier effect by demonstrating our collective values to the community.

 

Our values matter. They form the core of our profession, that sacred  relationship between patient and physician but also, our responsibility to our greater community, the environment that shapes our patients long before they interact with us. And while many come from all levels of society, it is our great responsibility to be that democratizing force that makes them feel like they matter. Because they do.

 

And because of our common values, it is truly an honor to be chosen and to represent this great society as its 134th president. I have the upmost respect for not just prior leadership, but all the rank and file staff and members in the community demonstrating our values in everything we do. This evening is really about recognizing you all and your efforts and making a solemn pledge that I will do what I can to help you do what you need.

 

And I realize, that to best serve you, I owe you not just a promise, but a vision of how I will help our organization advance our professional interests while simultaneously navigating today's challenging environment that is constantly evolving.

 

While we know these challenges well, I will only highlight some of the toughest that are changing the landscape in medicine. 

 

First – we do not need a bunch of statistics to tell us what we experience every day. The growth of qualified people in the medical profession is simply not keeping pace at an acceptable proportional ratio with the growth of our population.

 

Second –we all know the growing time, and stress, required to deal with third party payers' benefit managers to ensure our patients' insurance companies allow us to provide the care that they need. Long delays for approval of care by insurance companies wastes valuable clinical time for existing patients to receive care, and reduces time available to see new patients for initial consultation.

 

Third – tort reform. While we have had responsible tort reform in Virginia resulting in relatively stable costs for some time, key reforms are due to expire in a few years. We cannot sit on the sidelines and watch this happen. To showcase what can happen – in our neighboring state, Maryland, just a  few months ago the legislature passed SB 30, which will allow professional expert witnesses to testify in medical malpractice cases, changing the current 20% rule, which states that a physician can only spend 20% of their professional time testifying as an expert witness and must practice medicine 80% of the time. In effect, they have professional testifiers as expert witnesses who do not even practice medicine.

 

Given these challenges, recent events and current legislation in play, we live in a very fluid and dynamic environment that requires us to be good doctors, good community members, but also involved public advocates.

 

Tonight, I am here to tell you not just why it is more important than ever to be involved, but to share my vision regarding how.

 

My vision for the organization calls for three core actions:

 

One – we must increase our strategic communications to demonstrate the value of our organization to both patients and the community. Again, if we want to be successful advocates for our profession, people won't care what we have to say until they believe we care.

 

Two – we must have an effective internal vetting process that allows us to better prioritize our legislative and regulatory agenda for maximum gain.

 

Three – we must begin to leverage the success of our last two years which have earned us meaningful relationships with scores of influencers.

 

In closing, we all understand that our shared values, and actions we take, benefit everyone in the community. You have my total commitment to ensure that 

MSNVA

 leadership will hear, value and vet any idea anyone of our members puts forward. I will work to ensure that the power invested in me will be used to empower all of you. Our collective compassion, empathy, and bedside manner is what I want our community to feel as we continue to strive to make things better. As I think our future, I am reminded of my favorite song phrase: "The best is yet to come!"

Thank you all for what you do, but also what you believe. It is not just the values we demonstrate in our offices, but demonstrating them in the greater community as well that matters.

Happy Holidays!