Lip darkening (hyperpigmentation) is a common occurrence that can be cosmetically treated under the expertise of the dermatologists and dermatological providers at Skin and Laser Dermatology Center. Lip darkening can be caused by many factors and can be difficult to treat. Unfortunately, many individuals trying to lighten their lips with over the counter creams or other products can actually cause further irritation, and therefore more darkening. By scheduling a cosmetic consultation at Skin and Laser Dermatology Center, individuals interested in lightening their lips can discuss the safest, most effective ways to achieve their goals.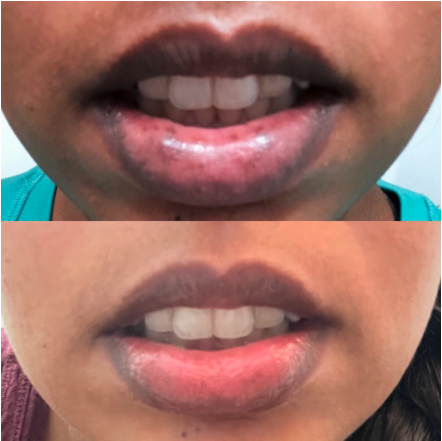 Representative example of hyperpigmented lip treated with ABMD Brightening Cream:
What causes lip darkening to occur?
Lip darkening (hyperpigmentation) can occur for many reasons, some of which include:
Sun exposure:

The skin on our lips is sensitive and sun exposure can increase the amount of pigment (color) in the skin. The higher levels of pigmentation can then cause dark or brown patches on the lips.
Conventional Hair Removal Methods:

Waxing or the use of razors around the lips can cause or increase the likelihood of developing darkened areas on and around the lips due to friction and irritation.

Skin conditions resulting in skin darkening (post-inflammatory hyperpigmentation): There are some skin conditions that can cause dark spots to appear on the lips. These skin conditions may be caused by hormonal or nutritional changes, allergies, or medications, among other factors. Melasma

for example, causes dark patches to appear, usually on the face, and can affect the lips. It is important to monitor dark spots and patches and have them examined by a dermatological provider in order to ensure they are benign (harmless). At Skin and Laser Dermatology Center, our providers are able to treat both medical and cosmetic concerns, often in the same session.
What treatments are there to lighten darkening on the lips?
Chemical peels:

Chemical peels can exfoliate the darkened patches to reveal lighter skin. Chemical peels can be more powerful than over the counter exfoliants or lip scrubs.

Laser treatments:

Skin and Laser Dermatology Center offers a number of lasers that can be effective at minimising the pigment in the area. They work by precisely targeting the affected areas of the lips to deliver maximal results.

ABMD Brightening Cream:

Designed by our own dermatologist, this skin lightening creams contain ingredients that reduce the pigment in the treated area.
It is critical and essential to continue sun protection of treated areas to protect results and prevent recurrence of hyperpigmentation.
How quickly can I expect results?
If skin-lightening creams are used, you will need to continue the treatment for around 2 or 4 months to achieve the best results. If you choose to undergo a laser treatment to lighten your skin, it will often take between one and several treatment sessions to significantly reduce the dark spots, depending on individual factors. By scheduling a cosmetic consultation, the best treatment option for specific concerns can be addressed.
Are there side effects of skin lightening?
Individuals who have a skin lightening procedure may experience some side effects depending on the treatment method. The exact risks of any procedure recommended will be discussed at the time of consultation. Your provider and skin care expert at Skin and Laser Dermatology Center will inform you of possible risks and their recommended course of action.
Frequently Asked Questions
Our Providers
Dedicated Team
Skin & Laser Dermatology Center treats patients for all skin care concerns, including skin cancer surgery, cosmetic dermatology, sclerotherapy, laser peels, laser hair removal, hyperhidrosis, rosacea, and acne treatments.
Testimonials
Our Clients Say
My eyelid surgery results for the facial wrinkles look very natural. Very skilled dermatologic surgeon.
Dr. Bajoghli always has time for his patients, you never feel that he is rushing you and after you leave if you have any concerns he is very responsive to the point of giving out his cell phone number. I can't say enough about him and his staff.
Nurse Rassmussen answers all of my questions, listens to my concerns, examines my skin, goes over my treatment protocol and gets me out the door quickly, but without feeling rushed, so that I can get on with the rest of my day. I have already recommended this practice to a couple of friends, and I will continue to do so with confidence.
I really appreciate the polite and professional service that Dr. Bajoghli's practice provides in my dermatologic health. All of his staff make you feel welcome and are concerned for your care. Speaking as someone who neglected his skin care when I was young, I appreciate having a physician who is personally concerned for his patients.